4A's Atlanta member Eric Mower + Associates is on an award winning roll this year!  Their latest win was Monday, June 22nd, at the renowned Cannes Lions International Festival of Creativity.
EMA was recognized in the Mobile Services category for Domtar's "Project Learning Curve," an effort to increase focus on handwriting and the research that shows how much it benefits students. As part of Project Learning Curve, EMA created the world's first handwriting tracker—an app the agency conceived and worked on with software developers to connect a digital pen to paper. Just like wearable fitness trackers encourage people to exercise their hearts by tracking their miles, the Project Learning Curve app encourages students to exercise their brains through handwriting. It also allows teachers to monitor what students write on paper, gauge how much time is spent handwriting in class and at home, and set classrooms goals for students, such as writing enough characters to cross the Golden Gate Bridge.
"This is a fun way to encourage students to spend more time handwriting, to engage both students and parents, and to help teachers monitor the progress being made at home," said EMA Creative Director Patrick Short. "We're proud that our work helped Domtar underscore how print and pixels can complement each other in the classroom, giving students the best chance of success."
This year's Silver Lion marks the agency's second Cannes honor in three years, and the second prestigious award for "Project Learning Curve" in three months.
It also comes hot on the heels of EMA winning a National Silver Addy Award earlier this month from the American Advertising Federation (AAF) for a creative campaign that helped bring the Southwire brand to life.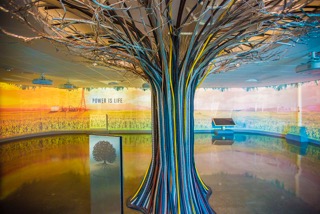 The ADDYs are a three-tiered, national competition conducted annually by the AAF. Work must first win gold at the local Ad Club level, then compete against winners from other clubs in a district competition. Those gold winners then move on to the national stage.
EMA won in the Branded Environment category at a June 13 ceremony in Las Vegas.
 Congratulations to the EMA team for these notable commendations!